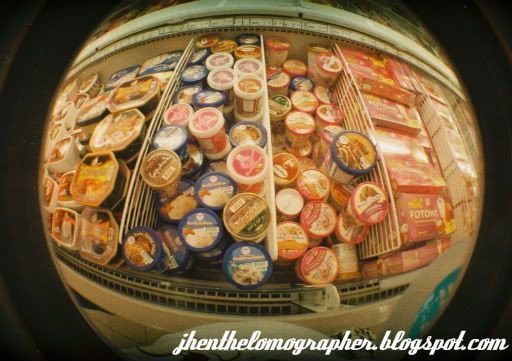 taken with Fisheye 2 and Agfa Pro Pack too.
when I think of ice-cream, the first thing comes to my mind is FAT!
LOL! from now on I must keep fit! I mean really fit for
KLWMBC
.
I wouldn't want myself to faint during the parade even I'm not one of the band members.
omg. try to imagine that. That is so very de embarassing. >.<
argh. I'm now back to my boring life.
the only two things in my mind now are - KLWMBC and shopping.
going to come out with my
❤pre-UG shopping list❤
soon.
yaya. I need to shop for my UG soon.
what a lame excuse to shop eh?
argh. I'm so very de broke now. but I'm happy with my $$ spending on films.
counting my "stock" in my drawer now-
6 rolls of Agfa Pro Pack
5 rolls of Lomography X-Pro
[erm. they're in the post office now. reaching my house 2ml]
3 rolls of Kodak EBX
1 roll of Kodak TMax
1 roll of Fuji dunno-what
and I seriously so want to buy Fuji Velvia! ish!
but again, I'm broke now.
anybody willing to be my sponsor?
or you would like to sponsor me for my pre-UG shopping?
omg. my daydream continues even at night. =.=
meeting Mei Mei, Ah Muk, Ah Sim and Wai Hong a.k.a. my gor gor 2ml.
wu. Mei is going to Singapore to further her studies.
wu wu. who's going to teman me to go back St Mary's next time?
wu wu wu. who's going to eat Kam Kei Ban Mee with me next time?
wu wu wu wu. Mei, make sure you have your MSN online always! okay?
when somebody important in my life like her has to leave..
I sigh.. >.<