damn it. went to Mid Valley after my last paper yesterday.
and ROOM told me that they currently have no stock for fisheye No. 2.
grRRRrRrRR!
very sad lor.
but nevermind. swee loo gave my number to ROOM KLCC too.
so that if they have stock, i will get it. LOL! thx swee loo!!! u r so good ler~!
might be going to 1U to check whether they have stock there or not.
As i remembered, they told me they have a limited edition one.
hopefully it's not sold out yet?
so now im not a lomographer yet.
finals are finished. finally. phew.
my foundation year is finished.
as I mentioned earlier, we went to mid valley after our last paper after helping swee loo to check out.
LOL. but the day b4, we actually
went to Jusco Cheras Selatan
, to have a pre-summer-holiday celebration.
and guess what. we actually watched Speed Racer. the lame movie. oops no no the Rain's movie.
seriously very very lame lor tis movie. but Jo-Ann and Soon Ming kept saying the movie was nice. tsk tsk tsk.
WAT?!
u dun blif jhen actually watched a movie?!?!?!?!?!!?!?!!
hey hey i've got my prove here okay!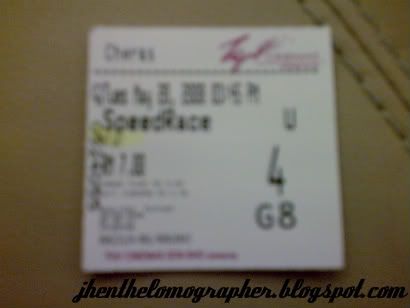 i seriously wonder why i couldn't get a nice shot of the ticket with my Nokia 5610 lor. hate it!
oh ya. must thank swee loo for fetching us to Jusco Cheras Selatan. so sweet of him lor right? LOL!
i oso bought one hydration lotion from The Body Shop. they're having sale! but things are still expensive after discount. =.=
taken in Jusco Cheras Selatan 1st Floor, female toilet next to Popular, the last one. duh. =.=
then, on thursday. after helping sweeloo to check out his room, we went to mid valley. fu YOH! swee loo wear shades and drive so yeng lor. LOL. he's sure very happy now. i keep praising him here. =.= we went there with 2 cars. so i was driving too.
after i parked my car, i saw two weirdo [ooops they are hottie]...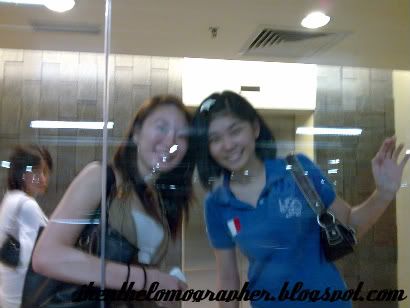 soonming on the left and san san on the right. they said they feel like supermodel when they are at the back of the glass. sweat lor!!
and guess what. swee loo, Jo-Ann and I went for another movie. Indiana Jones. seriously much more better than Speed Racer lor. so now...
wahahahahahahahahahahaahahahahahahahahahahahahahahahahahahahahaahahahahahaha~!
after movie, we went shopping like mad. or shud i say, window shopping like mad!
anyway, soonming, jo-ann and I still managed to buy sumthing.
soonming got herself a punk tube top..
jo-ann got herself a dress. which seriously makes her look cute lor.
and i got myself a VERY HUGE bag and a blouse? i dunno wat to call tat top anyway. LOL.
kinda happy with the huge bag because it cost me only rm35 lor! nice nice~!
after that, we went and bought some big apple donuts and brought it back to campus for our friends. lOL. Say Cheese! is super nice loR!
after bathing, soonming, san san, jo-ann and I had a nice and long girls' talk in my room.
we actually planned to stay up to 4am and go to McD kajang to have breakfast.
but in the end, we tak boleh tahan.
at the time of about 3am, we went to KFC Kajang.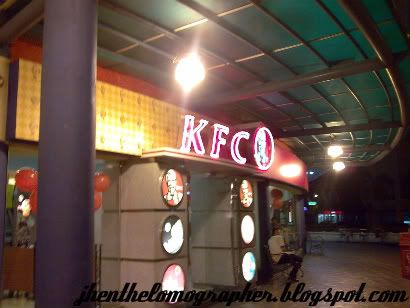 KFC at 3am....
this is the leng leng Jo-Ann Chan Sook Yan. happily eating her original drumstick. yea. at the time of 3am.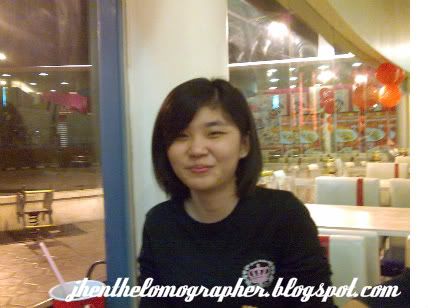 leng lui Yiu San San a.k.a. 33. she was still so awake lor.
the super hottie Hoo Soon Ming. [nah... soonming, belanja har!] eating ice-cream at the time of 3am. =.=
then. shud i say the next day? or the same day's afternoon?!
soonming, jo-ann and I went to foodcourt to get some semenyih food. cz we said we will miss the food during summer break.
then. for the 1st time, soonming decided to eat sumthing!! [usually just a papaya will do for her.]
she ordered fried rice.
some of the notts might not believe me.. but see this!
she's really eating lor! and she managed to finish it! a round of applause for soonming please~!
after tat. we went back to campus.
and i checked out my room. they charged me rm25 for the wall having stains and the protector of the bed. GRRRRRR!
but the lady was so kind. she said close on eye for my mosquito net which was lost. =.=
and finally... I MOVED OUT!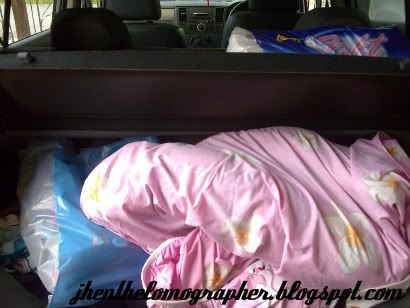 at the back of my car. seriously. full lor.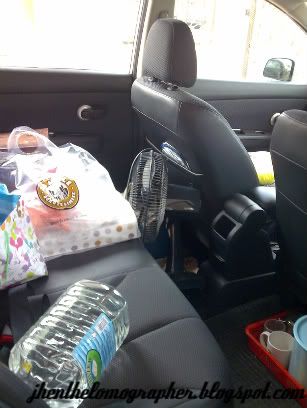 the passenger seat.
i went home like that. and got scolded by my mom. LOL!
imagine. by september, i need to move these things in again. sigh....
now, im having 4 months break and mom doesn't allow me for any part time jobs.
so i've decided to go back to my ex band and help in training the juniors.
but the committee is not really contacting me yet. erm. i dunno how. LOL!
so fast. i've actually finished my foundation.
by the time i get back to UNIM, i'm a Civil Engineering 1st Year Student.
wish me luck then!
and friends, happie holidays, okay?
p/s - i did not post any of my own photos in this post. if you've read my previous post, do you seriously think you wan my photos summore?!?!?!? LOL!!!!!!