aiks.
have not been updating for so long.
sorry sorry.
was quite
busy
lazy. LOL.
anyway. went and help my friend, Mei Mei with one fund raising event yesterday.
hehe. wasn't as good as we expected, but still, I manage to enjoy. lOl.
[cause there were nice food. oops. im gaining weight.]
hahahahahaha.
well. nothing much to blog about since I did not manage to take any pic of the event.
I actually took. with my lomo. hahaha. so need to wait till those films got developed again.
another lomograph to share -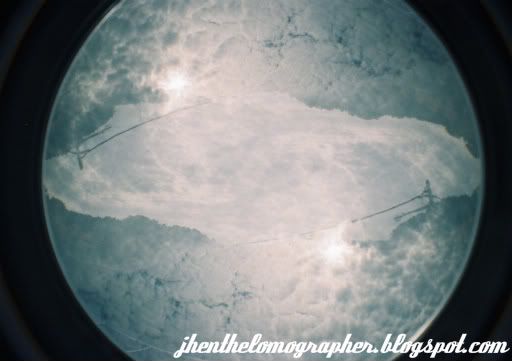 with my fisheye 2. without flash, "N" mode. double exposure. kekekeke. the sky.
and guess wat. I've actually placed my order for a Holga 135 BC. I did not order it directly from the net because the shipping from US [this item is not available in Hong Kong yet. sad.] is freaking expensive. So, I ordered it from Hanif, a nice guy from
lomokids.com
who is holding a spree for
LSI - Lomography Society International
.
wow. cant wait for my holga! but. i got no money to develop those films lar. aiks.